Local Musicians Present Benefit Concert for Victims of Colombian Disaster
VANCOUVER (January 2, 2011): In response to devastating floods that have left more than 2 million victims in Colombia, award-winning local musicians Dorothea Hayley (soprano) and Alejandro Ochoa (piano) present a benefit concert at the Vancouver Masonic Centre on Saturday, January 15th at 6:00 pm.
Some are calling the disaster "Colombia's Katrina."
In what is being called the worst natural disaster in Colombia's history, floods and landslides have killed more than 300 people, ruined hundreds of thousands of homes, and submerged vast tracts of coffee, cotton and sugar cane.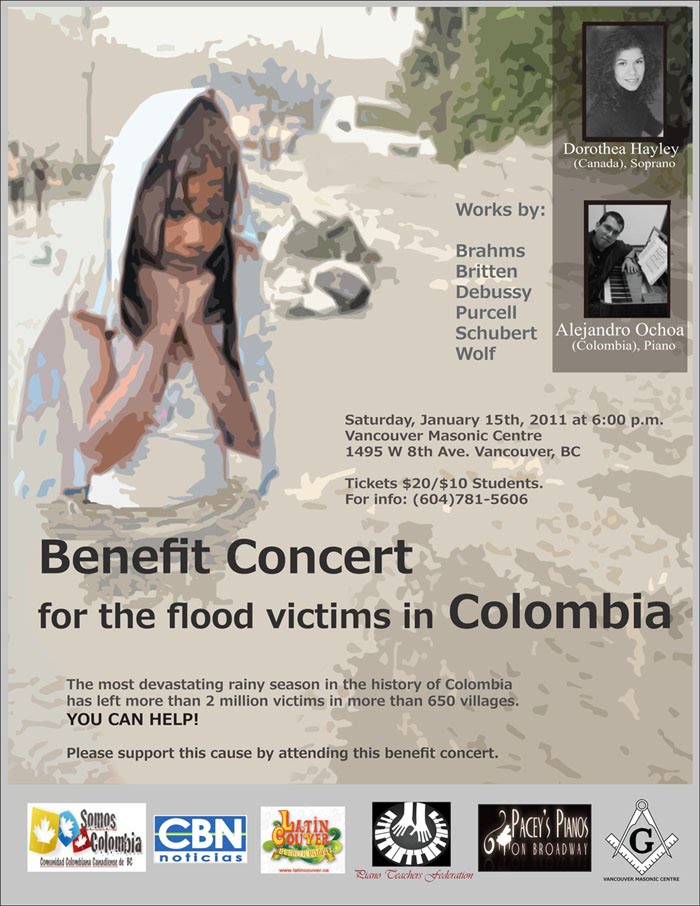 Colombian President Juan Manuel Santos has declared a state of emergency and made urgent pleas for international aid. Recent estimates place the flood damages at over $5 billion.
But the worst is yet to come: with more than a million hectares of farmland under water and no relief from the torrential rain predicted until May, the death toll and recovery costs will continue to rise with the water level.
The benefit concert was the idea of Colombian-Canadian pianist Alejandro Ochoa. "I kept hearing about catastrophic flooding from friends and family back home," he says, "but I barely saw it mentioned in the North American media."
"We wanted to create an event to raise awareness as well as to do what we could to contribute to relief efforts."
The concert, presented by the Piano Teachers Federation of Vancouver with the support of the Colombian Community of British Colombia features lyrical gems by Brahms, Purcell, Schubert and Debussy. Tickets are $20 ($10 for students), with proceeds going to the Fund for Colombian Flood Relief.
For tickets call (604) 781-5606.